The Yaesu FT-2900R
is a 2 meter heavyweight. It's solid, brawn-ish features combine with a hefty 75 watts to provide a powerful RF punch. It's heavy, sure, and it's quite large; but if you're looking to this single-band mobile radio, you're probably less concerned with style and class than you are with work performance. As I've spent time with the FT-2900R, I've grown to really appreciate it's ruggedness; and though I've never thrown it against a concrete wall, I have no doubt that this radio is bombproof.
Although the FT-2900R is hearty, it comes at the expense of some functionality and, as mentioned, size and weight. As I explain below, this is a wonderful radio, but its uses may be somewhat limited. Without spoiling any more of the fun, let's get right into it!
Iron Weight on the Doorstep
HEAVY. It's the first word that comes to mind when holding the box containing the Yaesu FT-2900R. Coming in at nearly twice the weight of some competitors like the Icom IC-2300H, the FT-2900R is a full 4 1/4 pounds, perfect for those days you'd rather do bicep curls with a radio rather than head to the gym. Let's just say, I was very surprised when picking up the delivery box.
It comes packaged with the typical mobile radio componentry:
Radio
Mount + Hardware
Handheld Mic
Mic Mount
User Manual
Warranty
Extra Fuse
DC Power Cable
As with every Yaesu, included with the radio is an in depth user manual. The form and format of every Yaesu manual I've read is infinitely impressive. It's published more like a book than a pamphlet, and each features is coherently organized into chapters, with explanations, how-to's, and 'tips' scattered throughout. I seriously consider Yaesu manuals to be a strong purchase-point–not just because the manuals are so rich in content, but because they represent a company that is committed to customer education and proper product use. It's also great for new radio operators or for users who are new to a particular type of radio.
Yaesu radios also come with a warranty certificate on which the serial number is pre-stamped. It's a great gesture, and although other manufacturers may offer warranties, I've always been impressed by Yaesu's program.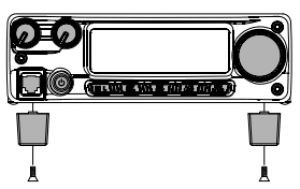 The one item that was ostensibly missing from the package is the 'base station feet.' I'm not sure if these were supposed to come with the radio, or if maybe Yaesu stopped including them–either way, I couldn't find any in the box. The feet are mentioned in the manual, and I've seen examples of the included feet on other hams' radios. If they do normally come with the FT-2900R, it would be a great little bonus. The feet have little 'aligners' on the front so that they don't move around, and would essentially make the radio more practical in a 'desktop' situation. Note that the speaker is on the bottom of the radio, so slightly elevating the chassis is recommended.
2 Meter on Steroids
It cannot be overstates how burly the FT-2900R appears. The entire chassis is one black, die-cast heat sink, and even the knobs feel very industrial. It weighs in at 4 lbs 4 oz., which, as I wrote earlier, is nearly twice as heavy as the Icom IC-2300H. The speaker is on the bottom, covered by a thinner alloy plate. The heat sink extends nearly two inches beyond the rear termination of the actual radio body, attempting to provide as much heat dissipation as is practically possible without a fan–something to be aware of if you intend to mount in a vehicle or other small space.
Buttons
The push-buttons are all soft plastic, and, although they don't have an audible mechanical click (digital click can be programmed in the menus), they do feel responsive and natural. All push buttons are translucent and backlit except for the Power and Internet/Lockout, presumably because these buttons aren't actively used while operating. The power button is an easy-to-push red button, just to the right of the mic input. It's slightly recessed so that it feels slightly different from the other menu buttons. Similar to most mobile radios, it requires a 1-2 second 'push' before powering on or off
The rest of the buttons are in a series along the bottom of the display, and, because of the backlight, they are all easy to read even in low-light conditions (except for the Internet/Lockout button, of course.) The most notable button is 'MHz(Set)', which allows the tuning knob to adjust frequency by 1 MHz, rather than by the kHz step. It's a one-press function, so its very easy to use. Simply hit the MHz button, zoom into the desired frequency range, hit the MHz button again, and dial into the specific kHz–done. It's a nice feature, but it's also a necessary one, considering the keypad's inability to input frequencies apart from the tuning knob. The rest of the buttons are rather typical, and can me read about in the user manual (my intent is not to rewrite the manual!)
Knobs
Starting on the right side of the screen, the oversized tuning knob works very well. It's a rather deep button so it's easy to grab on to, however I found myself comfortably scrolling with just my index finger. The knob is 'light' in the sense that it's easy to turn, but this doesn't make it feel cheap or loose in any way. As for the movement itself, it has lighter 'tick' rather than a bumpy feel, which I tend to like.
The two smaller knobs are oriented side-by-side just left of the display screen–one is for volume and the other for squelch. These knobs are significantly 'tighter' than the tuning dial, but this makes it easier to get more precise adjustments. Concerning the noise squelch knob, I feel as though the squelch's high-pass filter is too 'high' on its low-end (I think I'm describing this correctly.) What this means is that, even for a strong signal, the squelch doesn't 'open' until the knob is turned to nearly the 12 o'clock position (half-way point.) Whether this is normal on the FT-2900R or just a defect, I'm not sure.
Display
The display is as big and bold as the unit itself. The main display utilizes six main alphanumeric digits along with a '.5' marker and 3 channel number digits. The Signal Strength Meter is located along the lower edge of the screen, similar to most other mobile radios. Other than that, it's rather straight forward. It does have ten brightness settings, which is an improvement over some other models. At night I like to turn the screen down as far as possible while still being able to read it, and I was impressed with the flexibility I had with display brightness.

Handheld Microphone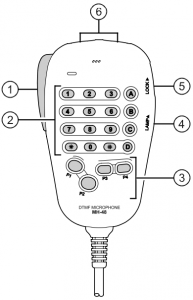 Finally: the handheld microphone. Let me just say, this Yaesu microphone really throws me for a loop. It's the MH-48, and although its the same mic included with Yaesu's high-end radios (like the FTM-400XDR), I just can't stand it! First of all, the PTT switch. This mic has the most sensitive PTT switch I've ever used, and I was continually accidentally keying the mic, sometimes without even noticing. It's so light that by simply placing it on the table the PTT would key. What's worse, some of the button placements are so unnatural that my hand, contorted while trying to reach the button, would accidentally press the PTT. Take a look at 'number 6' in the illustration to the right–those are the 'Up/Down' frequencies. Yep, the most often used buttons are awkwardly placed on the top of the mic, recessed into the plastic, even. I just don't understand; and I can't imagine a hand that could naturally press those buttons without hassle.
Anyways, along the right side of the mic are sliding switches for 'lock' and 'lamp'. These, though also awkwardly placed, aren't much of a bother. Once they are set they don't need much more attention. I will say that it's nice to be able to 'lock on' the keypad's backlight (which, by the way, happens to be reddish in color.)  To the right of the DTMF keypad are keys A, B, C, and D, which correspond to the four front menu buttons on the radio face. Why they are labeled alphabetically on the microphone is unclear.
Lastly, the bottom four button provide user programmability for often-used functions. This sounds great, but practically there isn't much real functionality here. Out of the box, P1 – P4 are already programmed to Squelch Off, Smart Search, Tone Search, and Wx Channels, and beside those, there are only three other functions which can be programmed. I personally think they should have just hard-programmed those four buttons to their respective functions and left the rest out for simplicity's sake! In this way, they could have been able to label 'P4' as 'Wx', which is much easier to remember.
My final thought on the MH-48 microphone: I don't like it.
Standard Yaesu Functionality
Something I like about Yaesu radios is the 'homogeneity' they all share. It's very apparent while navigating menus or programming memories that the radio comes from Yaesu. I view this as a good thing, especially considering how great the quality of their products are. That being said, the functions available on the FT-2900R are very similar to other Yaesu's.
RF Squelch
Like most mobile radios, the FT-2900R does offers RF squelch, which mutes the audio based on RF strength rather than noise level (more on RF squelch can be found on the blog.) This option is activated through the menu system, so it will take a few button pushes to adjust. Interestingly, it doesn't actually take the place of the noise squelch when activated, rather it works along side it. So, even if you are receiving an RF signal of S-7, if it's noisy, you won't hear it. This can be good or bad, depending on the situation, but it's at least important to be aware of.
POWER!!
As earlier mentioned, the FT-2900R can put out a whopping 75 watts of power. This is 10 watts more than the mobile radio 'standard', and for many people it could be a huge purchase-point. If you live in a hilly or mountainous area it won't make much of a difference, but if you're located where it is generally flat, those 10 extra watts could add some legs to your signal, especially with an elevated antenna. Now, for me personally, I rarely if ever use the highest power setting on a mobile. The 30 watt setting is more than enough for my needs. Heck, my local repeater only pushes 25 watts, and that thing has some serious reach!
Speaking of power levels, this radio does have a reputation for overheating when being continually used on the 'high power' setting. With that in mind, I've spent time operating on all four power levels–75w, 30w, 10w, 5w–and I, personally, have not experienced an abnormally hot radio chassis. Yes, it does get warm (especially on 75 watts), but I never sensed that it was 'over-heating.' That being said, I'm not overly talkative, and I'm sure some real 'yakkers' have pushed this thing to it's limit from time-to-time. My thoughts are, do you really need to be on 75 watts? Or even 30 watts? It's always a good idea to have power levels in mind while operating and to adjust accordingly. Also, I suspect some folks have installed their mobiles in precariously 'tight' situations, where heat displacement may not be as fast. (Just some things to think about.) Overall, I wouldn't worry too much about the heat situation, and I certainly wouldn't let it 'make or break' a purchasing decision.
Channel Memories, and Yaesu Memory Banks
Compared with competing models, the Yaesu FT-2900R
's 221 total memories is typical. Ten of the memories are dedicated weather channels, but the rest can be programmed with a 6-character alphanumeric name. The one feature that really makes Yaesu stand out, however, is its 'memory bank' system. Even for this relatively basic radio, Yaesu provides up to 10 memory banks into which any number of channel memories can be programmed. Since the banks act more as 'tags' rather than 'folders', the same channel memory could be assigned to multiple banks. So, let's say you frequently travel between multiple cities, you could compile a bank for each of the cities, programming relevant repeaters into each bank, and including 'along the way' repeaters into both. If you are an ARES member, you could set up one of the banks for ARES operations, inputting relay stations or other relevant channels that you would expect to use. This is a highly practical function that I've found opens up a lot of possibilities.
Yaesu Smart Search
Speaking of memory banks, the FT-2900R actually has a really cool feature called "Smart Search", which essentially makes it capable of automatically adding channels to a memory bank. Here's how it works: when activated, the radio immediately scans all frequencies above and below the currently scanned frequency. If a signal is found, it is immediately added to the 'Smart Search bank' where up to 31 memories can be held (15 above the start and 15 below.) The entire process is done 'behind the scenes', and there is no 'pausing' when an active channel is discovered, as is the case with traditional searches. It can also be set to stop after one complete scan, or it can be allowed to continue scanning until all 31 channels are filled.
This is a SUPER useful feature, and for me it sort of acts like a "cheap man's spectral display." Of course there is no live visual display, but after only a few moments the FT-2900R provides you with a list of all active signals in the area which can then be scrolled through and later added to new channel memories. This is a great way to discover repeaters in areas you've never been before, and I imagine the Prepper community could utilize this feature for making contact with others in situations where there are no established frequency plans.
Yaesu WiRES II
One feature that can't be left out when discussing most Yaesu radios is WiRES II functionality. If you haven't heard about it, I'll make sure to write a blog post about it soon. For those who are aware of WiRES II, although it's included on the FT-2900R, I suspect it often remains unused on these models. The fact is, if you're interested in getting into more 'digital mode' operations you'll probably head over and purchase something like the FTM-400XDR, which offers better user interface and easier-t0-use features.  With only 6 alphanumeric characters the FT-2900R is not easy to navigate!
Miscellaneous Features
Just a few final features to bring up regarding the FT-2900R. First, and perhaps the most gimmicky, is the 'CW Trainer.' This little 'application' is available on most Yaesu's, and supposing you are completely bored and have no access to internet or a smart phone, you could practice receiving Morse Code with it. I'm sure at one point this was a cool little feature (before smartphones), but now it just seems really clunky and unnecessary. But have at it!
One truly useful features is the Yaesu ARTS module which creates a constant DCS network with other in your local area. Perhaps the most useful function of this is during Search and Rescue operations, where personnel need to stay within simplex distance with one another at all time. Once set up, radios in the network will 'ping' their DCS code at various intervals (15 or 25 second), and as long as that ping is received by the radio it will display 'In Rng' (also programmable to have an audible beep.) Callsigns can also be programmed to transmit every 10 minutes as morse code in order to satisfy FCC requirements.    I'm not sure how much battery this feature uses, but I plan on testing this sometime in the future.
---
PROS:
Exceptionally Rugged
Simplified, Oversized User Inputs
Whopping 75 watt Out
CONS:
Quirky Handheld Mic
HEAVY, and Large
Know to overheat
---
Wrapping Up the FT-2900R
Ok, so that was a TON of explanation for a relatively simple mobile radio. But think about it this way: for being so basic, the Yaesu FT-2900R
has a lot of functionality and features! There are some clear drawbacks like size and weight (also, the microphone is funky), but this radio is a beast in almost every other area. If you're looking for a tough, incredibly powerful two meter radio and size/weight is no issue, there really is no better radio for you than the FT-2900R.
Now, here's a question you may have been asking yourself throughout this review: "If this radio is so large and heavy, why not just buy the Yaesu FT-1900R?" It has just about EVERY feature the FT-2900R has and it's half the weight and size! Well, here's my take on this: the 2900R adds an entire 20 watts to the 1900R, and that's a LOT of power. In fact, the 75 watts of the 2900R are sort of its claim to fame. If you're happy with 65 watts and need something with a smaller footprint, I would suggest you buy an ICOM IC-2300H, which offers a much better user interface and is significantly lighter. What's more, the 2900R and 1900R are generally around the same price-point–so why not go bigger!?
Whichever mobile radio you decide on–or even if you aren't in the market for one!–I hope this review has been of some help to you! I've spent a lot of time with this radio and I've tried to relate everything I can think of that might be of use to you. If you've got any questions that I haven't answered, please feel free to message me or leave a comment below and I'll certainly get back to you ASAP with an answer.
If you decide to shop for the Yaesu FT-2900R
, consider checking out some of the links I have on this post (like the one earlier in this sentence!) If you end up making a purchase through one of these links I'll actually get a small commission of the price at no extra cost to you. It will really help me out, and it does a great deal to support ARTech! Thanks!
Do you have an interesting story with the FT-2900R? Have you used the ARTS function in a real-life situation? Leave a comment below, because I'd love to hear about it!
| | Kenwood TM-281 | Yaesu FT-2900R | ICOM IC-2300H |
| --- | --- | --- | --- |
| Price | $163.95 | $162.47 | $189.00 |
| Tx Bands | 2 meters | 2 meters | 2 meters |
| Max Power | 65 W | 75 W | 65 W |
| Memories | 100/200 | 200 | 207 |
| Speaker Power | 2 W | 3 W | 4.5 W |
| RF Squelch | Yes | Yes | Yes |
| CTCSS | Yes | Yes | Yes |
| DCS | Yes | Yes | Yes |
| DTMF | Yes | Yes | Yes |
| Mil-Spec | Yes | Yes | Yes |
| Weight | 2lbs 14oz | 4lbs 4oz. | 2 lbs 6 oz. |
2 Meter-Knockout
The Yaesu FT-2900R packs a punch, putting out a whopping 75 watts of power on the 2 meter. Though slightly hindered by size and weight, its decidedly rugged features make this radio ready for just about anything.