In a world of constantly evolving technology, the Icom V80
exists as a dinosaur among peers. The oversized body, BNC antenna connector, and miniature display screen are reminiscent of something from the late 90's. And while the V80's 'old standards' aesthetic may be reminiscent of days when radios weren't so gosh darn complicated, there just really isn't much to write home about in regards to this radio's functionality. Even now, I feel the need to end this paragraph on a somewhat positive note, but as I stare at the V80, I can't think of a single reason why someone would purchase it over a similar Alinco, Wouxun, or–heck–even a Baofeng!
When I set out to create ARTech I made a promise to myself and all future readers that I would be honest about every product I review. Well, that includes being honest about what I don't like.  Don't get me wrong–it's totally fine if you go out and purchase an Icom V80
 and end up liking it. To each their own! And it's not that the V80 is inherently or completely bad. I just think there are so many better options available on the market, and I tend to get frustrated when a manufacturers don't update their products as technology grows.
Anyways, I'm still going to tell you all about this radio, and I hope this will help you make a more educated purchase if you're in the market for a new handheld radio.
Marty McFly Called: He Wants His Radio Back
What's in the box? Pretty much everything you would expect in an HT radio package: radio, antenna, battery, belt-clip, quick-start guide, and–thankfully–a charging dock. Charging docks are one of those things that some companies are leaving out (Yaesu Series), but I think docks should absolutely be included with every handheld radio. The Icom dock (BC-193) is actually really nice. It's slim, and only takes up as much space as it needs. The way that it grabs the radio feels very sturdy and solid, so the radio doesn't rattle around at all while it's charging. The status light is only on when the radio is docked, and has a nice orange light while charging and a green light when fully charged. I also notice two holes on either side whereby the dock could be fixed via screws to a table or desk. It's honestly one of the higher quality docks I've seen.
As mentioned above, the radio utilizes a BNC connection, so the 6-in rubber duck antenna that comes in the packages has a silver BNC connector. It feels like a sturdy antenna, and I'm happy about the size, which slightly offsets the height of the radio body.
The included belt-clip is quite oversized, but I actually like how it feels. It's super solid, and I feel comfortable clipping it anywhere, really. Included with the belt-clip (which doesn't use screws–it just clips into place) is, oddly, the microphone port cover with two screws. For some reason Icom decided to 'hard-attach' the port cover with screws. This means that if you decide to use a headset you will actually have to unscrew two screws, and then you'll have to find a place to store those screws and the cover (without losing them) until you're ready to stop operating on headset. Weird, right? I'm just not sure what they were thinking. Wouldn't it have been cheaper to use a single rubber gasket-cover like everyone else? (If you know why they designed it this way, please comment below, because I'm absolutely at a loss.)
Where's the Beef?
Now the radio. First of all, the radio is awkwardly large. I've got fairly large hands,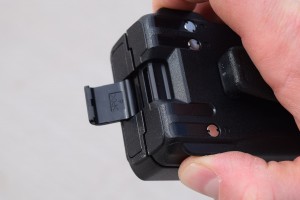 and I can't get my hand all the way around it. I think the word to describe it is 'chunky'.  It's also fairly heavy, coming in at 11oz/314g. As I hold the battery in my hand, which is only 1900mAh, it feels sort of hollow, like they could have made it smaller. I've compared it visually with some of the other HT batteries I have and it is definitely larger by proportion. There is a gasket around the lip so I'm confident it will keep the water out. One feature I think is infinitely annoying is set of 'tabs' on either side of the battery (see photo.) They have the two-part purpose of assisting in easy removal of the battery as well as guiding the radio into the dock, but they're just annoying. They really interfere with my palm while holding it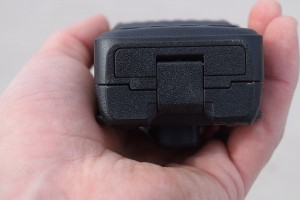 during normal operation, and I'm not sure why they were necessary for the design of the dock. I just don't get it.
Besides being awkward to hold, the rest of the body feels pretty bomb-proof. It is built to military specifications and it's rated with IP54, so it should withstand most forms of abuse, like shock, dirt, and light splashes with water (is NOT waterproof/submersible, but if kept in the rain for a few minutes it should be fine.) In most locations I noticed a water-sealing gasket, which makes me more confident in its 'toughness'.
Buttons, Buttons, Buttons…
The PTT button on the V80 breaks with the industry standard and employs hard plastic, which threw me off for a moment. It feels very similar to a mobile mic PTT and has a positive 'click'-sound, so you know when the button is engaged. The rest of the buttons are just awful. Seriously. The most serious offender is the 'Power' button. Not only is it the smallest button on the radio, but it's location is terrible. I have to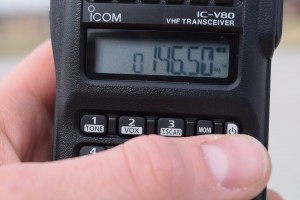 rotate the radio and deliberately jab the tip of my fingernail into the button in order to turn it on and off. The next button over is the 'Moni' (Monitor) button which is just barely larger than the power button. Get this, in order to change the Squelch level you have to hold down the 'Moni' button with one finger and the up or down button with another finger. Unfortunately the buttons are right next to each other and its a real struggle to fit both of my fingers together in such a small space. It's absolutely absurd. It would have been smarter for them to set squelch by holding down the Monitor button while turning the knob on top–this is similar to some Yaesu models. To make matters worse and in contrast with the PTT, there is no 'click' to the buttons to provide feedback that the button is engaged. Realistically, this radio is a no-go for me if only for the buttons.
User-Interface and Functionality
So here's the thing about the display screen–its just a basic alphanumeric display with a few ancillary icons. Because the Icom V80
is a decidedly 'basic' radio, I don't want to judge its user interface based on only having a simple display. When you buy this radio you know you're getting a simple display, so its really nothing to complain about. That being said, if you're not used to reading simple alphanumeric displays like this, it may take a little while to figure it out. I find myself constantly referring to the user manual in order to 'translate' the menu items. Once you live with the radio for a while it becomes second-nature, but it's certainly not intuitive. One thing to note is the frequency display, which only goes to the 'hundredths' position (146.52). It will show a small '50' next to the last decimal point to designate half steps (i.e. 146.52'50, which equals 146.5250). Practically it doesn't make much difference, but many radios these days are as as precise as the hundred-thousandths place (146.520000). As for the display's backlight, it's a pleasant green. It doesn't offer brightness levels, but it is programmable to 'off', 'always on', or 'transmit-only on'. Also, the LCD contrast is adjustable (the black on white text.)
One function you might be interested in is the Tx On/Off ability. By turning the Tx ability off, you can essentially turn the V80 into a 2 meter scanner. There have been times in the past when I have lent HT's to unlicensed friends so that they can listen-in to club or ARES nets. I tell them, of course, that they legally cannot transmit on the radio, but I think it gives them a better idea of amateur radio, and I view it as sort of 'educational'.  By turning Tx off, you could lend the V80 to folks and be a little more confident that they won't accidentally transmit on your radio.
The V80 has three power level settings,  which is another 'plus'–5.5W, 2.5W, and .5W. For someone like me, this offers better flexibility than, say, a Baofeng UV-5R, which only has a 'high' and a 'low'. And, really, 2.5 watts is my ideal power setting for day-to-day repeater use, so I'm glad they included it.
Wrapping It Up
Well that about does it for the Icom V80
. I will say this about it: it's a rugged radio, and while it's not submersible, I wouldn't doubt its performance in some extreme environments. It really suffers from some poor design flaws in my opinion, but it is manufactured by a very trustworthy company, and it's 'insides' are very solid. It doesn't fit my needs, but it may be just the right thing for you! It does come in two different models, the 'HD' (which you see here) and the 'Sport'. The notable difference with the Sport model is a 'AA' battery pack, which is perhaps more useful in emergency situations. Obviously the Sport doesn't come with a charging dock, and it's about $50 cheaper than the HD model.
If you have some positive experiences with the Icom V80
 I would love to hear them–think about leaving a comment below! I try to be honest with my reviews, and with this one it was a bit more painful than usual! Nonetheless, I have spent some time with the V80, and if you have any other questions, feel free to contact me either via comment or email–I'll be happy to speak more about the radio. Check out the comparison chart below for some more specifics, and if you end up considering a purchase, consider clicking on one of the product links here on the page. At no extra cost to you, I will receive a small commission from any purchase that you make, and it will go a long way in supporting ARTech and future reviews. Thanks!
| | Baofeng UV-5RV2+ | Icom IC-V80 | Yaesu VX-3R |
| --- | --- | --- | --- |
| Price | $33.99 | $163.08 | $152.49 |
| Tx Bands | 2m/440 | 2m | 2m/440 |
| Max Power | 4 watts | 5.5 watts | 1.5 watts |
| Battery Type | Li-ion | Li-ion | Li-ion |
| Battery Power | 1800 mAh | 1900mAh | 1000 mAh |
|  Speaker Power | 700mW | 750mW | 50mW |
| | Baofeng UV-5RV2+ | Icom IC-V80 | Yaesu VX-3R |
| --- | --- | --- | --- |
| Dual Watch | Yes | No | Yes |
| APRS | No | No | No |
| Ch. Memories | 128 | 207 | 1000 |
| VOX | Yes | Yes | Yes |
| DCS | Yes | Yes | Yes |
| CTCSS | Yes | Yes | Yes |
| DTMF | Yes | Yes | No |
| SQL Tail Elim | Yes | No | No |
| Wide/Narrow | Yes | Yes | Yes |
| S-Meter | No | No | Yes |
| Flashlight | Yes | No | No |
| Commercial FM | Yes | No | Yes |
|  Antenna Type | Female SMA | BNC | SMA |
| Weight | 7.2 oz | 11 oz | 9.5 oz |
Not My First Choice
The bomb-proof shell and IP54 rating make the V80 ideal for extreme environments, but it is unfortunately hindered by its size and weight. Also of issue are poor button placement and a difficult-to-interpret display. The V80 has a difficult time competing with other radios at the same price.