Every brand has to have its own 'base model'–you know, the model with the least amount of 'trim', the bare-bones, the entry level. Well, The TM-281
is Kenwood's 'base model' mobile radio. It transmits and receives on only two meters, has minimal buttons, and offers a rather small screen. Still, the TM-281 is a very functional radio depending on the application, and as I've spent time with it, I have appreciated it's simplicity and sturdy build. It sure isn't the prettiest thing out there, but it works very well. Let's check it out…
All the Fixin's
The packaging and contents bundled with the TM-281 is typical of mobile radios in this price range. The box is standard brown cardboard, inside of which a maze of cardboard dividers and inserts holds everything in place. Inside, I found a manual, warranty, microphone, microphone mount, radio mount, hardware, electrical cords, extra fuse, and, finally, the radio. Taking everything out, everything felt pretty sturdy, but I was surprised by how light the radio itself is. Considering it puts out 65 watts, I thought the TM-281a would be similarly heavy as the Yaesu FT-2900, but it is quite light. Other than the weight, everything else in the box seemed pretty standard to me.
I'm very impressed by the level of depth offered in the instruction manual. Kenwood actually explains some very fundamental (but key!) aspects of 'getting on the air', which in my mind increases the value of this radio for new hams. It would be very easy for a brand new licensee to purchase this radio and figure out how to operate it. The manual explains repeaters, simplex/duplex operations, and basic station set-up. It's a very thorough manual.
The Overall Build
The Kenwood TM-281
is build to military standard, which is pretty awesome, especially when paired with its weight and size. As I mentioned above, it is very light–I weighed it at 2 lbs, 14oz. It's also average to below-average in size.  To me, that makes this a great candidate for a 'portable kit' or a go-bag. The integrated speaker is forward-facing on the front of the unit, which to me is the ideal location. Usually this wouldn't be possible because of the amount of real-estate the larger display screens take up these days, but the TM-281's small screen accommodates the speaker perfectly. The forward-facing speaker would also allow the radio to integrate well with a mobile power-supply tower.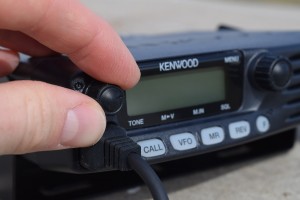 The user interface is basic. On the radio itself are five push-buttons along the bottom of the screen, and on either side are two turn-knobs, both with a 'click' function. The knobs are smaller than I like, and the volume/power on knob is awkwardly located right on top of the microphone input, which makes it annoying to adjust at times. I have a similar issue with the 'F'/function button–it's so small that I have to use the very tip of my finger to press it. It's something to think about if you have larger hands.
As for the buttons, they are lit up, but only the primary function is visible–the secondary function is printed above the button. Combine that with a slightly confusing menu, and low-light operating conditions become problematic. Now, the microphone IS completely backlit, so functions are very visible there. More on the microphone later.
The screen is bright and easy to read (for being so small), but it only has 6 alphanumeric digits, so some of the menu abbreviations are near-impossible to guess without a manual. Besides the 6 main digits it also provides the channel number in the top right, a full S-meter along the bottom, and the rest of the customary symbols along the top (DCS, +/- offset, etc.). Moral of the story: the display is bare-bones.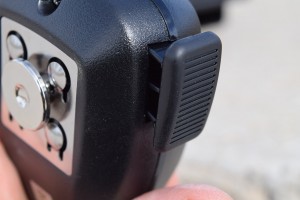 The microphone on the TM-281 is simple, but I've really grown to like it. The most notable thing about it is the PTT. The button protrudes pretty far off the side, and it requires a nice, long pull to engage it. This makes the button engagement very 'positive', so you know when you are transmitting. There are some mobile microphones who's PTT is so light that I end up clicking it even when I don't want to. As a 'fidgeter', I also tend to play around with the mic while it's in my hand, so having such a large PTT button gives me confidence that I won't be 'kerchunking' the radio every few seconds! To move the frequency or channel memory up and down you simply press the * or # sign, and of course the mic offers full DTMF. It utilizes a standard 'hang-up' microphone clip, as well.
Functionality and User Operations
I've already hit on the fact that the TM-281's limited display space has an effect on the user interface.  Because there are only 6 alphanumeric numbers, many of the items in the menu are quite honestly unintelligible (unless you know what you're looking for.) I found myself constantly referencing the manual to 'translate' what I was reading. There are also a whopping 43 menu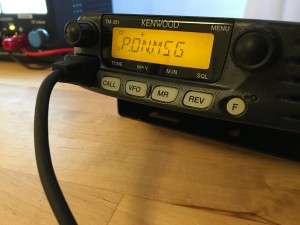 items–presumably to make up for the lack of hard buttons–which adds to the mess. Don't get me wrong, I'm not saying the display or menu are bad–this is just the nature of a hardcore, military-spec radio. But in an industry that is constantly innovating and developing even more intuitive user interfacing, I think Kenwood could have put more effort into the screen. Even actual military and commercial radios are integrating touch screens and color displays these days.
But let's not dwell on possible shortcomings–one thing that I will say is super simple on the TM-281 is manually programming memory channels. There aren't many steps–you just set up the channel parameters, push two more buttons, and you're done! For many users manual programming will be the name of the game. Although the programming software is free on Kenwood's website, the programming cables can easily cost 1/3 the price of the unit itself! And for such a simple radio, there's just not too much to program, and you probably won't use channel names anyways.
Which brings up another interesting consideration: if you do decide to name your channels it cuts your memories availability by half. That's right, only 100 memories if you name them (that's less than a Baofeng UV-5R!) Considering the amount of time I operate while traveling, I definitely want more than 100 channels.
Speaking of traveling, the Kenwood TM-281 has a pretty cool frequency offset reverse feature called 'Automatic Simplex Check'. (If you don't know what the 'Offset Reverse' function is on a radio, come back later for a blog post–I've got one planned for the next few weeks.) Of course almost every radio gives you a 'reverse' function, but the TM-281 passively pays attention to the signal coming in from the other station. If the Kenwood senses that the other station is close enough to contact without a repeater, it will start blinking an 'R' on the screen, suggesting that you engage the reverse mode. It's a bit more fool-proof than throwing the radio into reverse and realizing you weren't actually close enough to the other station!
The Squelch Situation
Like most mobile radios available today, the Kenwood TM-281 has two squelch options, a normal noise-floor squelch and an S-meter squelch. For those considering purchasing their first mobile radio, S-meter squelch allows the user to determine a threshold based on RF strength (from the Signal Meter), rather than by a noise floor. In most situations a normal squelch is adequate, but the S-meter Squelch is useful when constantly having to re-dial in the noise squelch while, say, on a road trip. Just because a signal is audible doesn't mean you want to be hearing it–with S-meter squelch you only hear signals that are strong enough for your specific application.
My last gripe is with the amount of steps it takes to adjust the regular squelch setting. Compared with similar models in it's class, many of which offer a dedicated squelch knob or quick-access button, the TM-281 requires two button pushed before you can even select a setting. Due to the nature of mobile operations, I personally believe squelch settings should be overly simplified on mobile units. This is something I think Kenwood could improve upon.
---
PROS:
Rugged, Mil-Spec design
Easy to program and use
Lightweight
CONS:
Poor button/knob placement
Minimum functionality
Only 100-200 memories
---
Summing It Up
Overall, the Kenwood TM-281 is a perfectly capable single-band mobile that could fit the bill for a number of applications. One thing I didn't mention above is the TM-281's well-known reputation for being highly dependable and delivering reliable signals for a long time. I don't have enough long-term experience with the radio to validate the claim, but it's worth bringing up. If you're in the market for a lightweight, no-nonsense 2-meter mobile, this could be your radio.
If you have something to add or you have a specific question about the radio, please leave me a comment below–I'll try to respond as soon as possible. I try to get to know each product as much as I can before writing, so if you're curious about anything, I'd love to help you out.
I also have a few links to the radio below and throughout the page. If you happen to be interested in buying the TM-281, it will help me out tremendously if you purchase through one of these links–at no extra charge to you I will actually get a small commission on the purchase, and it really helps me and my wife continue developing ARTech.  If you want to read more about this you can head over to the 'About' page for more information!
| | Kenwood TM-281 | Yaesu FT-2900R | ICOM 2300H |
| --- | --- | --- | --- |
| Price | $163.95 | $162.47 | $189.00 |
| Tx Bands | 2 meters | 2 meters | 2 meters |
| Max Power | 65 W | 75 W | 65 W |
| Memories | 100/200 | 200 | 207 |
| Speaker Power | 2 W | 3 W | 4.5 W |
| RF Squelch | Yes | Yes | Yes |
| CTCSS | Yes | Yes | Yes |
| DCS | Yes | Yes | Yes |
| DTMF | Yes | Yes | Yes |
| Mil-Spec | Yes | Yes | Yes |
| Weight | 2lbs 14oz | 4lbs 4oz. | 2 lbs 6 oz. |
A+ for Reliability and Build
The Kenwood TM-281 may not be the prettiest mobile on the block, but it sure is built well, and covers all the necessary bases. Would function well as a ham's first mobile radio, or as a portable 'go-bag' radio.